User Guide
1.about「GINZA DIANA」
DIANA Co., Ltd. is a Japanese women's shoe store that sells fashionable shoes and handbags for women.
While maintaining a stable position in the 60 years since it was first established in Ginza, Tokyo,
it is also one of the largest shoe stores in Japan
that always stays ahead of the curve , creating brand new fashion culture in line with its feature of offering fashionable items.
At DIANA, we emphasizes 'Made in Japan' and 'DIANA original' as our motto,
and persistently incorporate only the best materials, colors, decorations and other fine details
in our shoes that are both comfortable and stable.
DIANA considers when, where, and with what you will wear our shoes.
We offer an extensive selection of shoes from elegant high heeled designs for work
or a date to cute casual designs that ensure easy comfort for shopping.
If you are a fan of fashion, we promise you that DIANA will be your perfect fashion partner.
Try a pair and see for yourself!
about merchandise of 「GINZA DIANA」
2.Note on the delivery of your product
You will be regarded as an importer of international transaction; therefore, you shall accept that you will buy at your own responsibility before shopping.
1. What's Personal Import?
The purpose of purchase on this shop shall be only for personal use.
Purchase for resale is prohibited. Furthermore, some merchandises have import restrictions. Please refer to the website of China Customs.
2. Customs Duty, Tax
You will be required to pay customs duty, value added tax, or consumption tax at the time of item arrival.
If notification to claim for customs duty and taxes is sent for customs declaration, please pay at your own expense.
Besides, the postal organization in your country provides customs clearance agency service. It is possible to use it.
Depending on your country of residence and products (types, materials, and quantities etc.), large tax charges may be charged. For detailed information on tax charges please refer to the webpage of customs in your country etc.
3. Export Certification and Tax Rate
Certificate of origin or export visa, etc of merchandises will not be issued.
In addition, tax rate is different depending on merchandises.
3.Membership registration
Membership registration is required to use services of this website.
Please read and comprehend the terms and conditions of use in advance, then sign up.
Note 1: Sign-up is free. You will not be claimed for registration fee or membership fee.
Note 2: JapaNavi is only for people who live in countries except Japan.
If you don't have your address in countries prescribed, you can't sign up.
3-1 How to Sign Up
(1)Click "Sign up" on header.

(2) Enter necessary information after the following page is displayed.
Please enter in en anphanumeric.(※Please don't enter in Chinese characteristics. Ordered items will not be shipped with information in Chinese characteristics.)
Please necessarily fill in the items shown as "Mandatory".
※Please don't enter hiphens "-" or spaces " " in postal code or phone number.
※Please carefully review birthday, for it will be necessary in case you might forget your password.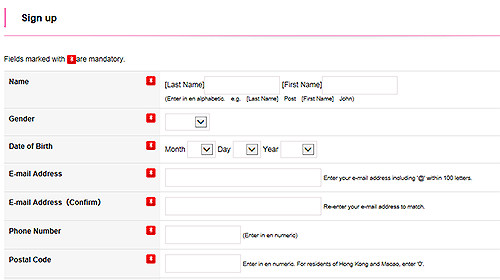 3-2 How to Review/Edit Membership Information
(1) Click "My Page" on top page of JapaNavi after sign-up.
(2) You can review/edit information of each item.
4.Order and Shipping Cost
(1)Click "Add to Cart" on the page of items detail.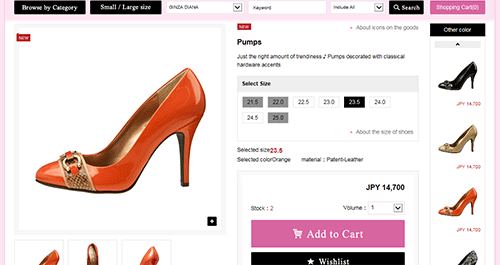 [information] Icons on the goods

 : New Arrival

 : Re-arrival,repeatedly produced because wanted by more customer

 : Published in the magazines sold in Japan

 : Recomended item,popular in Japan
(2)Click "Calculate" after selecting your destination country on the page of shopping cart.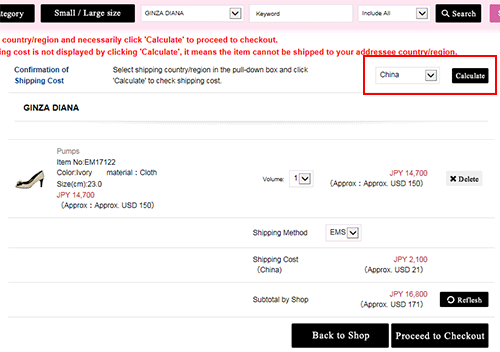 (3)Shipping Cost will be displayed in "Shipping Cost" column. And click "Proceed to Checkout".
【EMS Shipping Cost】
China(and HongKong)・Indonesia・Korea・Malaysia
Philippines・Singapore・Thailand・Taiwan
JPY 2,000
Australia・Canada・New Zealand・United States
JPY 4,000
Germany・France・Great Britain・Sweden
JPY 5,000
[NOTE]
・If shipping cost is not displayed by clicking 'Calculate',
it means the item cannot be shipped to your addressee country/region.
・You will be required to pay customs duty, value added tax,
or consumption tax at the time of item arrival.
If notification to claim for customs duty and taxes is sent for customs declaration,
please pay at your own expense.
・No items can be added once you complete an order. Please make a new order.
・Please note that you cannot change an order once you complete the order.
・Please note that an order cannot be cancelled after the procedure for shipping the ordered item has been completed.
5.Payment
◆PayPal
| | |
| --- | --- |
| PayPal | |
◆UnionPay
| | |
| --- | --- |
| Alipay | |
◆Alipay
| | |
| --- | --- |
| Alipay | |
【Note for Payment】
(1) Credit Card
・You will be billed in RMB converted from JPY displayed on JapaNavi by exchange rate in an international credit card company you use.
The prices in JPY displayed on JapaNavi are only refferal ones.
・Please settle with credit card whose holder coincides with your name on purchase.
If it doesn't, the Order may be deleted without notification in advance.
・Depending on the contents of orders made with a credit card, there may be inquiries made into the cards contract holder and the user of the card to the credit card company.
In cases where our company decides that it cannot accept a credit card based on the results of such an inquiry, the order will be cancelled.
(If it has been found that the use of the card is fraudulent, police will be notified and the information registered with the fraud information sharing system.
In cases where it has been found that use of a credit card was fraudulent after the product has been sent, cost of the product as well as damage reparations will be demanded of the orderer or the recipient.)
(2) Alipay
・You will be billed in RMB converted from JPY displayed on JapaNavi by exchange rate in an international credit card company you use.
The prices in JPY displayed on JapaNavi are only refferal ones.
Please check the following website: http://help.alipay.com/support/3716-3801/0-3801.htm(Chinese Only)
(3) PayPal
The payment for the item you have purchased
will be converted at the rate displayed on the
PayPal screen if you select payment by PayPal.
●Any debit cards are unacceptable for our online shop.
6.DIANA POINT
If you sign up as a member at our site,
you will be able to use Diana Points when shopping online.
- You can only use Diana Points at this site.
-
You will receive Diana Points when you purchase a product at our site and have it shipped,
equivalent to 3% of the amount charged for the product.
(Shipping fees and other handling fees do not earn points.
Awarded point amounts are calculated by rounding down to the nearest whole number.)
- 1 Diana Point is worth 1 Japanese yen. When you shop online at our site,
you can use Diana Points to cover payment in increments of 100 yen after you have earned at least 500 points.
you can use them for subtotal of items when you make an order.
Example: If you use 2,000 Diana Points for the purchase of an item priced at 10,000 Japanese yen, the amount you then pay will be: 10,000 – 2,000 = 8,000 Japanese yen.

- If you want to use points for an entire purchase amount, enter a number of points in the points box that is: equal to or fewer than the total number of points you have; greater than the amount billed for your order; at least 500 points; and entered in increments of 100 points. The remaining points will stay in your points balance.
Example: If you use Diana Points for an item priced at 6,980 Japanese yen and you enter "7,000 Points," you will use no cash or credit to make your payment and the remaining 20 points will stay in your Diana Points balance.
- The expiration date for Diana Points is 1 year from the date you most recently used or earned points. Note that if you do not use or earn points for 1 year, then all your points will become void.
- You can check your Diana Points balance and expiration date at My Page.
7.Delivery
We won't accept delivery to other address than the registered.
Cannot specify delivery date/time.
If the ordered product(s) is(are) in stock, your order will ordinarily be delivered to you by EMS International Post within 7 to 10 days.

Besides, some items may be required for customs declaration and may take time to arrive. Please confirm date of shipping and status in your "Order History" on "My Page" after sign-in.
※Orders shown without tracking number are under preparation for shipping. Please wait for a while until shipped.
8.Returns or Exchange
Please note that DIANA will not accept any request for return or exchange, regardless of whether the item you wish to return or exchange has been purchased anywhere else.
9.The good function "Wish List"
The pages of items detail have the "Wish List" function,
which allows you to make a list of products you want or you're interested in.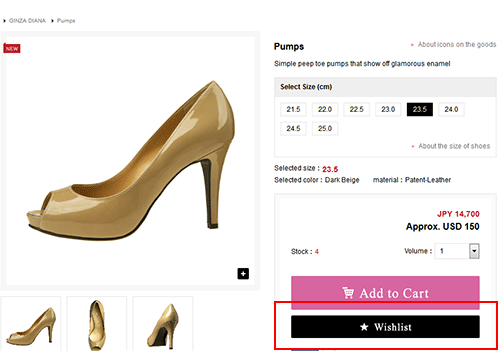 It is convenient to record items in this list in case you may want to purchase at our store in Japan.
Please print this page out and hand it to the staff in Japan.
Our shop staff will search in the inventory.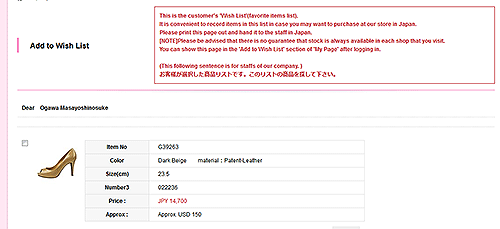 [NOTE]
Please be advised that there is no guarantee that stock is always available in each shop that you visit.
You can show this page in the 'Add to Wish List' section of 'My Page' after logging in.